Water & Bath Toy
Transform bath time into an exploration with our b is for ball™ toy, designed for endless water play.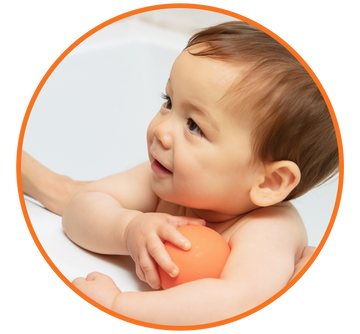 Water Toy for Babies & Toddlers
Each interaction with b is for ball™ in water unveils a narrative of exploration. Its design encourages babies to delve into the cause and effect of splashes, fostering an early understanding of basic physics. The soft, easy-to-grasp ball is an invitation to a voyage where every ripple and wave is a chapter of discovery.
Shop now
Splish-Splash Learning
From gentle splashes in the bath to exuberant play in the pool, b is for ball™ is a companion that grows with your child, offering endless avenues for water play and learning, transcending the boundaries of ordinary playtime. Splash, squirt, and have endless fun in the bath.
How do I clean baby bath toys?
To clean baby bath toys, soak them in a mixture of equal parts white vinegar and warm water for about an hour, then scrub with a soft brush. Rinse thoroughly, squeeze out excess water, and air dry completely to prevent mold growth. For our ball, you can simply wash it in the dishwasher or sanitizer to effectively clean the silicone surfaces.
Can bath toys get mold?
Yes, bath toys can get mold, especially if they retain water and are stored in damp conditions without being allowed to dry completely. Consider a silicone bath toy that is easily sterilized.
Do I have to open the lid to refill the ball?
No, you don't have to open the lid for a refill. Our product is designed for easy refilling without the need to unscrew the lid. You can simply squeeze out the air from the ball and use it like a dropper to add the desired liquid. It's a convenient and mess-free way to keep your toy ready for water play.
At Biggest Little, we're passionate about quality, design, and most importantly, family
That's why we're dedicated to designing products that bring happiness to every home and help foster greater love and togetherness for the whole family. We know firsthand how special those moments of play can be, and we want to help other families experience that same joy.
We're beyond excited to be launching our first product, and we can't wait to share it with you and your family. We truly believe that our products will help bring families closer together and make playtime even more special. So, from our family to yours, thank you for choosing biggest little™ – we can't wait to be a part of your family's playtime memories.