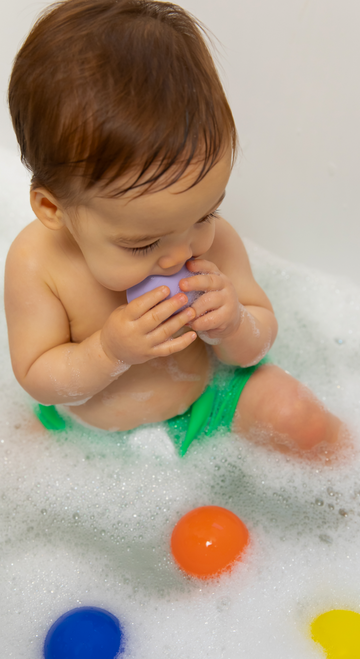 Teether Ball
Teething is one of the first significant challenges that babies face, and as parents, we instinctively want to provide them with the best relief. Our open-ended Teether Ball is meticulously designed not just as a toy but as a holistic solution to cater to the unique needs of teething babies.
The Perfect Teething Solution for Your Little One
Teething can be a challenging time for both babies and parents. b is for ball™ – a perfect blend of comfort, safety, and relief for your baby's tender gums. Here's why our teether ball stands out:
Shop now
The last Teething Toy You'll Need
The natural curiosity of babies pushes them to grasp, pull, and chew. Our open-ended teether ball is specially crafted to be easily held by those tiny fingers, ensuring they have a satisfying and beneficial teething experience.
Safety First, Fun Always!
Step into a world where your child's playtime is enriched by toys that are as safe as they are educational. Our ball is crafted with the utmost care and consideration for your child's health and well-being. Our open-ended toy is made from premium silicone materials, ensuring they are non-toxic, BPA-free, phthalate-free, and PVC-free, embodying the safety you desire for your little ones. They're designed to be battery-free, eliminating any potential hazards and making them an eco-friendly choice. Plus, parents can breathe easy knowing these toys are sterilizable and dishwasher-safe, making cleanliness simple and efficient. Suitable for both babies and toddlers, our toys provide the perfect blend of safety, functionality, and developmental benefits. So, why wait? Order b is for ball™ and nurture your child's growth and imagination, all while providing peace of mind about their safety and health!
When do babies start teething?
Babies generally begin the teething process between 4 to 7 months of age. However, it's worth noting that while some infants might exhibit signs of teething as early as 3 months, others might not have their first tooth emerge until after their first birthday. The timing can vary widely among individuals.
How long does teething last?
Teething duration can vary for each child, but on average, most children complete their full set of 20 primary teeth by the age of 3 years. The process typically starts around 4 to 7 months with the first tooth, and subsequent teeth emerge in stages over the next couple of years. Each tooth's eruption can cause discomfort for several days to a few weeks, but the entire teething journey spans from infancy until the toddler years.
At Biggest Little, we're passionate about quality, design, and most importantly, family
That's why we're dedicated to designing products that bring happiness to every home and help foster greater love and togetherness for the whole family. We know firsthand how special those moments of play can be, and we want to help other families experience that same joy.
We're beyond excited to be launching our first product, and we can't wait to share it with you and your family. We truly believe that our products will help bring families closer together and make playtime even more special. So, from our family to yours, thank you for choosing biggest little™ – we can't wait to be a part of your family's playtime memories.