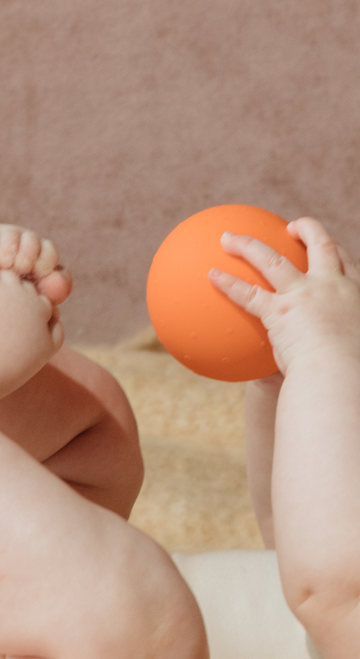 Sensory Ball For Babies & Toddlers
Embark on a sensory voyage with our b is for ball™ sensory toy, engineered to enchant the tactile senses of babies and toddlers from 6 months and up. It's not merely a toy, but a portal to a universe of sensory exploration. With our sensory balls, each touch is a blend of learning and amusement, enriching your baby's sensory perception and cognitive growth.
Sensory Exploration for 6+ Months
Our sensory toy is meticulously crafted, offering a myriad of textures that beckon little fingers to squish, pinch, and explore. They unveil a whimsical world where every texture is a novel narrative, every bounce a bound of curiosity, nurturing not only their tactile senses but also their burgeoning imagination. The gentle, non-toxic material is perfect for teething aid and is designed for safe play.
Shop Now
An Open-Ended Sensory Ball
A sensory baby ball is more than a toy; it's an instrument of exploration and learning. It sparks curiosity, enhances sensory recognition, and promotes motor skill development. As babies interact with the ball, they explore different textures and shapes, boosting their tactile and visual perception. The squeezable nature of sensory balls facilitates grip strength and dexterity, laying the groundwork for fine motor skills. Through playful interaction, babies also foster spatial awareness, hand-eye coordination, and problem-solving skills. Moreover, the sensory ball's material can provide soothing relief during teething periods, making it a multifaceted tool in nurturing a child's growth and understanding of the world around them.
What are sensory toys?
Sensory toys are specialized toys designed to stimulate the senses and help with sensory development, often used by children with sensory processing disorders and developmental disabilities.
What are the 5 senses?
The 5 senses are sight, hearing, smell, taste, and touch.
Why is it important to help babies activate their senses?
Research has revealed that a newborn's brain rapidly develops 2-3 million synapses per second. These synapses pave the way for sensory messages to reach the brain. The more actively these pathways are used, the more likely they become permanent. Unused synapses may undergo pruning to eliminate non-functional connections, preventing information overload. A healthy dose of sensory stimulation is crucial for developing sensory pathways in the brain, supporting a baby's brain development, and helping children learn about the world, communicate, and form attachments
Why are sensory toys important?
Sensory toys are important because they stimulate the senses, support development, help with emotional and sensory self-regulation, enhance motor skills, and provide therapeutic benefits, especially for children with sensory processing disorders and developmental disabilities.
At Biggest Little, we're passionate about quality, design, and most importantly, family
That's why we're dedicated to designing products that bring happiness to every home and help foster greater love and togetherness for the whole family. We know firsthand how special those moments of play can be, and we want to help other families experience that same joy.
We're beyond excited to be launching our first product, and we can't wait to share it with you and your family. We truly believe that our products will help bring families closer together and make playtime even more special. So, from our family to yours, thank you for choosing biggest little™ – we can't wait to be a part of your family's playtime memories.